Cherubims, Suns control openers in best
edit:casino time:2019-03-06
Senior Sports Reporter
Temple Christian Suns and Teleos Cherubims controlled the outcome of the opening games in their respective best-of-three Bahamas Scholastic Sports Association's best-of-three championship series at the DW Davis Gymnasium yesterday.
In their mini-boys matchup, the two-time defending champions Suns moved one game closer to a threepeat with a 18-7 win over the Queen's College Comets.
The Cherubims, however, made the most noise as their fans cheered on their teams as three other divisional finals got underway.
However, Zion Baptist Academy was able to silence them with a 31-26 decision in the senior boys' finale after Teloes' senior girls knocked off Freedom Baptist 24-14, while their intermediate boys got past San Pedros International 33-29 and their primary took care of Jordan Prince Williams Falcons 17-13.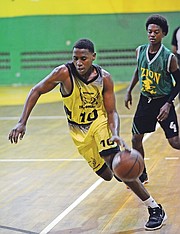 • Here's a summary of the games played:
Suns 18, Comets 7
Zion Thompson single-handedly outscored Queen's College mini-boys by himself with a game high 10 points, including five as they opened a 7-3 margin at the half.
"Game one was closer than I expected," said Temple Christian's coach Keno Demeritte. "It was a challenge. I love the way they came out and played from the break. All season, we battled with that team so I knew it was going to be a good game.
"I'm just glad that my boys came out and executed at the end of the game to pull away. Hopefully we will come back on Wednesday and try and finish it off."
Talon Higgs scored all seven points for the Comets in a losing effort.
"A lot of our guys are just learning, but they like the game of basketball," said Eugene Horton, of the Giants' coaches. "The whole idea is to let them have fun. Win, lose or draw, we are just going to have fun. But we will have to be more aggressive in game two."
Cherubims 24, Warriors 14
Ladesha Johnson came up with eight points, G'Ashanique Finlay had seven, Brenelle Colebrook six and Erin Wilson three to lead a potent offensive attack for Teleos' senior girls.
"We need a lot of work. We had a lot of errors, but hopefully tomorrow we can pull it all together and win it in two straight," said Teleos' coach Tanisha Joseph. "We have to work on our fast break, getting the passes off and hitting our free throws."
Both Keitrah Duncombe and Tatianne Russell had four and Brinique Wilson three in a losing effort. Teleos opened a 5-3 lead at the end of the first quarter and extended it to 13-5 at the half. They stayed ahead for a 17-7 margin at the end of the third, but Freedom Baptist matched them with seven in the fourth to close the gap a bit.
"The girls just need to stick to the fundamentals and slow the game down," said Freedom Baptist coach Josiah Major. "We were rushing a lot of our possessions and not trusting each other. Once they can calm down and do that, the sky is the limit for us."
Cherubims 17, Falcons 13: Andrew Bethel scored a game high nine points, including four in the first half as Teleos opened a 9-5 advantage and never looked back.
Mortino Butler chipped in with three, all coming in the first quarter.